---
If you think you can or think you can't, you're probably right
Dave Marriott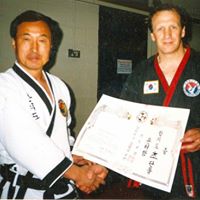 Dave Marriott founded Yorkshire Academy of Korean Martial Arts (YAKMA) in 1998. Our syllabus is YAKMA Hapkido.
After training in Wado Ryu Karate in his teens Dave later returned to martial arts studying Hapkido. He now holds a 4th Dan Hapkido (British Martial Arts and Boxing Association), 3rd Dan Hanmudo (World Hanmudo Association) and a  1st Dan Hapkido (Korean Hapkido Federation)  
Andrew Marriott 1st Dan Hapkido (KHF & WHMDA)

Andrew initially gained his 1st Dan black belt in 1998,
he also holds a 1st Dan in freestyle Karate.
From his early years in Hapkido and Karate Andrew has always shown great talent and has matured into an exellent martial artist.
With all the experience  he has gained over the years
he is a big asset to the club helping the new generation of YAKMA Hapkido students develop into fine martial artists.                                                                                                        
Chris Dexter 1st Dan YAKMA Hapkido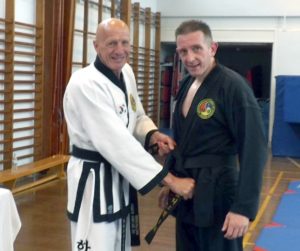 Chris has been with YAKMA for over 7 years. He initially trained in Karate and achieved 1st keup. Unfortunately his training was cut short due to a knee injury.
After several years he re-started his martial arts training with YAKMA. Chris achieved his 1st Dan on the 8th of June 2019. 
Chris's fastidious attention to detail and ability to not only learn techniques quickly but apply them intelligently when competing has enabled him to develop into an excellent martial artist.
Alex and Maddie Clarke 1st Dan Hapkido
Alex and Maddie joined YAKMA in 2010. During their time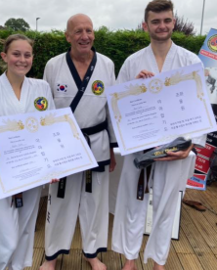 with us they have been very dedicated students with excellent attendance records. They are both very talented and skilled martial artists.
They were preparing for their 1st Dan black belts when our lessons changed to online sessions due to the Coronavirus lockdown. They would often attend 4 sessions a week as well as training between classes. The result was an amazing black belt grading by both of them on the 4th September 2021
William Cadman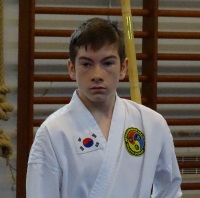 William is one of our longest standing members and is currently one of two students that hold a 1st keup in YAKMA Hapkido. William is one of our most committed students and has an excellent attendance record. His regular training and great attitude in class show through in William's performance of his techniques.
Carl Dexter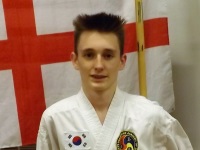 Carl is yet another long standing member of YAKMA. He also holds a 1st  keup in YAKMA Hapkido. His attendance and attitude in class are a credit to him. Carl has progressed amazingly over the last couple of years and he has matured into a very competent martial artist.
What can you expect from our classes?
YAKMA is a small, family association. As a  new member you can be sure of a friendly, warm welcome. The aim of our lessons is to help people become the best they can be both physically and mentally at the same time as providing a supportive and caring atmosphere for students to learn in.
We believe that martial arts is as much about developing and improving the character as learning techniques. 
Benefits of training with YAKMA
Childhood obesity is at an all time high and creates potential future health problems.  It is important to realise that the psychological effects of childhood obesity can also be devastating. When sitting has been labelled the new smoking it's never been more important to find ways to increase physical activity. Membership of competitive rugby, football or netball teams is  by nature selective. Many people can't get a place in the team because they don't have the necessary talent or maybe they're simply too old. Some get a place and spend a lot of time on the sidelines.
At YAKMA it's not about being better than the other person, it's about being better than you were yesterday. You don't have to be fit or talented to join us as you will be encouraged to work at a level that you personally are comfortable with. By training with YAKMA you can expect physical benefits such as improved:

YAKMA martial arts classes also provides many mental benefits. I have often been approached by students at the end of a lesson and and told that they feel so much better.
The mental benefits you can expect from training at YAKMA are improved:
Feel good factor
Focus
Concentration
Confidence
Stress release
Improved memory
At YAKMA we consider character development at least as important as the physical and mental aspects. It is particularly important in children as it instills key life skills that will stand them in good stead for the rest of their lives. We aim to give them the strength of character to enable them to grow into strong independent individuals with the mental strength to resist peer pressure.
The character traits that our training develops are:
Self esteem
Self respect
Respect
Confidence
Discipline
Social skills
All our classes are held in a fun and friendly manner and members are encouraged to work at their own level and pace.
You don't have to be great to start but you have start to be great
Change Your Life Today!