Online Hapkido training
In these challenging times when we cannot meet for our regular training sessions I am reminded of our club motto:
"Doing the best we can with what we have, here and now."
Many things we have no control over but one thing we can do at the moment is to use modern technology to allow us to carry on training. I am therefore running online sessions to enable everyone to progress.
Recruiting for our Online Junior Classes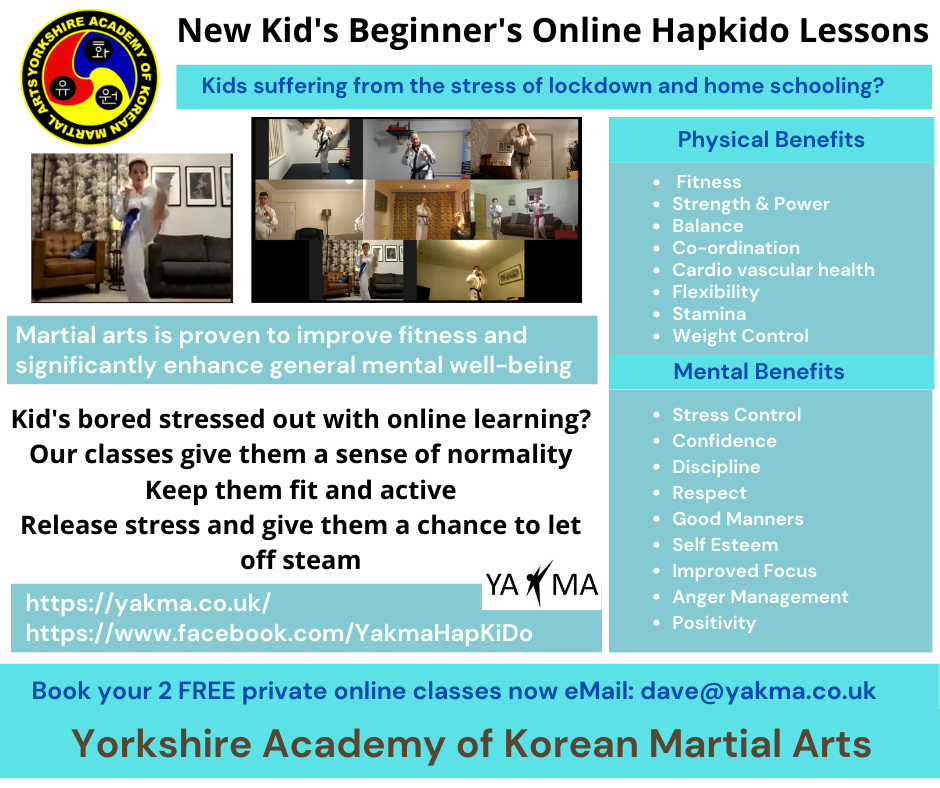 As so many YAKMA members have progressed to senior grades, we are now in a position to recruit new members to redress the balance. Why not take advantage of this opportunity while it lasts and get in touch with Dave on dave@yakma.co.uk to register your interest?
New adults beginner's class for 2021
In addition to our online lessons for junior members we are introducing introductory classes for adults who wish to learn the art of Hapkido. No experience is necessary for these sessions.
By training in our classes you can increase your :
Fitness
Strength
Stamina
Body tone
Flexibility
Focus
Co-ordination
Confidence
Happiness
Balance
As well as the above martial arts have been shown to be effective for reducing stress and living a healthier life.
Zoom
All the above lessons will use "Zoom" a video conferencing app. If you are taking part in the sessions you will need to install "Zoom" on your device.
The download for "Zoom" can be found here
Invites will be sent to all members for their particular sessions.
To join the session:
Open "Zoom"
Click "Join"
Enter ID number (just the numbers, not the hyphens)
Enter password
Click "Join"
Lessons will usually be divided into a small cluster of grades to make the best use of our time. For example one session may be for 12th, 11th and 10th keup students, another may be for 9th, 8th and 7th keup students etc. As a black belt grading requires knowledge of the whole syllabus, 1st keup students are welcome to join all sessions for revision purposes.